Worldwide support for your Energy Curing systems
RAHN your Specialty Chemical Suplier 
Worldwide support for your energy curing systems. RAHN is a premier worldwide supplier of additives, oligomers, monomers, photoinitiators and other customized specialty chemicals. Our products are used in ultraviolet and electron beam cure technologies and are essential components of high performance inks, coatings, adhesives, medical, rapid prototyping and other applications.
Read more ...
publications
UV News No. 50
Please find here the latest issue of RAHN UV News No. 50.
In the media (April 2021) pci-mag.com
Read here the full article 'bio-based energy reduction materials' in Packaging & Converting Int…
In the media (August 2020) European Coatings Journal
Please read here the article of European Coatings Journal. ECJ edition 05 2020.
UV News No. 49
Please find here RAHN UV News No. 49.
UV News No. 48
Please find here  RAHN Newsletter UV News No. 48.
UV-News No 47
Please find here the latest issue of the RAHN UV news No. 47.
UV/EB Safe Handling Guide
This guideline is especially designed to inform and support people who use UV/EB resin systems. 
Archive e-Newsletter
All our past issues of electronic UV eNews are available here
lab reports
Formulation Insights for Excimer Lamp Applications
Lab Report Formulation Insights for Excimer Lamp Applications
UV Inkjet Inks
Formulating of UV inkjet inks is a difficult challenge to achieve adhesion, flow and printablity pe…
3D Printing
RAHN's product range recommended for different vat photopolymerization processes (e.g. SLA, DLP) an…
Raw Material Selection for UV LED
This Lab Report discusses oligomers and photoinitiator types and includes a detailed UV/LED benchma…
UV Curing Flexographic Inks
Report outlines requirements needed to develop a UV curing ink series for state-of-the-art flexogra…
Shrinkage of UV Oligomers and Monomers
Report addresses key subjects of shrinkage in UV/EB cured formulations.
Adhesion of Oligomers to Glass and Metal Substrates
Formulation optimization is necessary to determine the maximum adhesive quality of coating on subst…
Lab Report Oligomer Screening
Lab Report Oligomer Screening
Photoinitiators for UV LED
Lab Report describes how Photoinitiators for UV–LED can be chosen and mixed to provide good cure re…
Laminating Adhesives
Laminating adhesives (LAs) comprise a relevant and growing segment among energy curable product mar…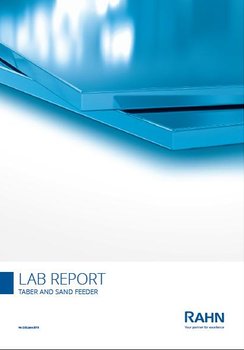 Taber and Sand Feeder
Report discusses the relationship of two different abrasion resistance test methods
PSA, Pressure Sensitive Adhesives
Report provide applicable starting point formulas
Electron Beam Curing Laminating Adhesives
Report outlines oligomer performances for EB cured laminating film combinations
UV Offset Inks
Report focuses on product evaluation in terms of physical parameters and lithographic performance r…
Electron Beam Curing
Effects of oligomer and monomer selection on the performance of EB cured coatings
product flashes
EPOXY METHACRYLATE 97-053
eProduct Flash EPOXY METHACRYLATE 97-053
GENOMER 1122 & 1122TF
eProduct Flash GENOMER 1122 & 1122TF
GENOMER 3486
eProduct Flash GENOMER* 3486
GENOMER 4277
eProduct Flash GENOMER 4277
GENOMER 4293
eProduct Flash GENOMER 4293
GENOMER 3143
eProdct Flash GENOMER 3143
GENOCURE FMP
eProduct Flash GENOCURE FMP 
GENOMER 1226
eProduct Flash GENOMER 1226
Bio renewable contents
Please read our latest product flash about bio renewable contents in RAHN products.
Polyether Acrylates
Versatility at Low Viscosity - Polyether Acrylates. GENOMER 3364,3414,3430,3457 and 3497
GENOPOL* Polymeric Photoinitiators
Polymeric Photoinitiators for Food Packaging
GENORAD 21
In-can Stabilizer for UV Metallic Inks
GENOMER 4217 & 4425
Cost Effective Urethane Acrylates
Printed Electronics
Product Flash Printed Electronics
GENOMER 7287
UV Curing Matt Coatings 
Reactive Diluents Product Line
Reactive diluents product line presentation with mechanical properties
Our range of products is established under the trademarks GENOMER*, GENORAD*, GENOCURE* and GENOPOL* which are widely used industry standards.
Our philosophy
The company's philosophy is based on a high level of customer support with cutting edge technical data combined with up-to-date health, safety and regulatory information. With laboratories in Switzerland, China and the USA, RAHN has the ability to provide local customized solutions and expertise in various application fields.
Experience
In the product development and product application areas RAHN supports its clients with more than 30 years of experience in radiation curing.
RAHN's key offerings are
Full range of specialized UV/EB curable products
Consistent product quality available worldwide
High quality and high purity products
Customer focused product development
Technical consulting and support
Specialized application laboratories
Health & safety and logistics support
Worldwide network of partnerships
Industry expertise, dedicated to energy curing
First class customer service
Contact